Lighting has the ability to entirely change a space and a beautiful lantern chandelier can certainly become the focal point of a room when paired properly with the other elements in the room. They can be utilized to brighten up an entryway, kitchen island, dining area, or even span a hallway or staircase if the walls are high enough. I've used lantern chandeliers in an office space before and they can really add a huge statement to the room while brightening everything with a soft light.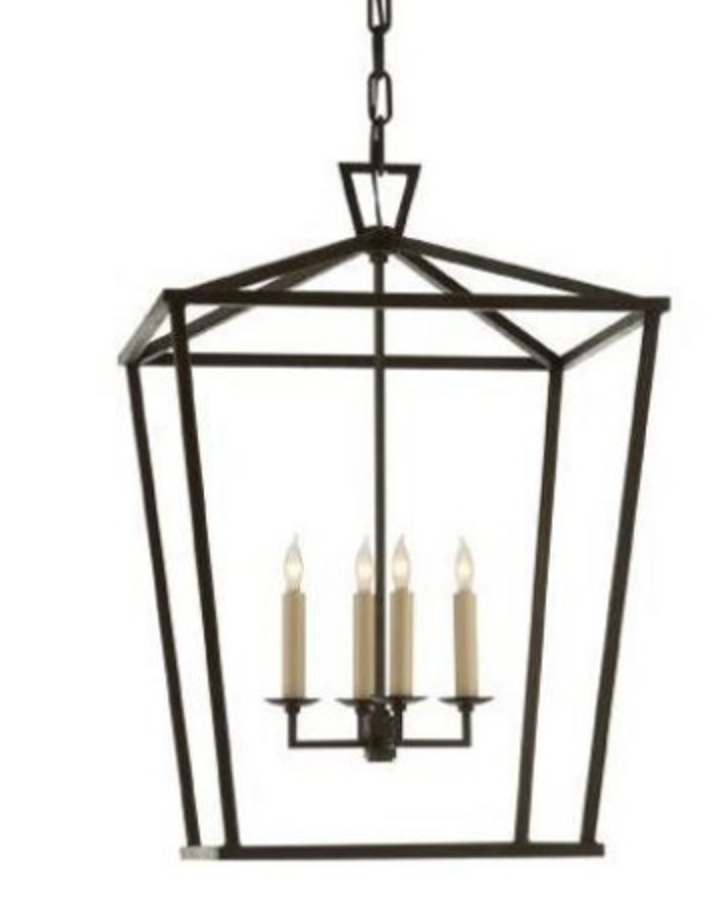 Some general lighting tips to help you make a confident choice in your lighting:
It's perfectly acceptable to mix finishes and textures within your home. Lighting can be made with various materials. Your lighting should compliment the room you are styling or decorating, not necessarily match everything or create drastic contrast.
Consider adding a dimmer to accommodate different tasks or mood lighting depending on the time of day and when or how much lighting is needed.
When installing hanging lights, choose a chandelier of pendant that is roughly 12" less in diameter than what it is being hung above. Because most chains are adjustable, make sure that the bottom of the light is about 30" above the table or countertop.
Use at least two different kinds of lighting within a room, preferably more! From a lamp to sconces, pendants, gallery lighting, etc., it adds dimensions, beauty AND function to your home.
Pick your size accordingly. More common nine and ten foot ceiling heights almost demand to be filled with beautiful lighting, otherwise risking a void look. BUT if this isn't the case for you, there are many options for mini chandeliers and pendants out there today.
When installing heavier chandeliers and ceiling fans, always make sure you or your electrician have proper mounting hardware to appropriately accommodate the weight of the piece being installed. One that I have used personally for mid size chandeliers and children's ceiling lighting is the Saf-T-Brace by Westinghouse Lighting.
When installing a foyer light, either center it with the window and if that is not applicable, hang it so the bottom of the chandelier is about 7 feet high from the floor.
Dining lighting should be about 50-75% the width of the table depending on the style and room. Again, make sure the bottom of the light is about 30" above the tabletop for 8 foot high ceiling. Every foot higher than eight, the chandelier can be raised approximately 2-3" higher.
The larger the room and higher the ceilings, naturally the bigger the chandelier OR the opportunity to use multiple chandeliers. Consider two and three tier styles to fill the space and illuminate the room more evenly.
Think outside the box! Mini chandeliers and pendants have been steadily filling laundry rooms, walk in closets, mudrooms, home offices, bedrooms, and even small dormers. There are SO many great designs out there these days and your lighting can really bring a unique look to your home.
What are some tips YOU have learned along the way about lighting? I'd love to know in the comments below!
xo,
Anneke
Follow along on instagram at:
Want to start your own blog? Check out my FREE tips at www.CreativeBloggingResourceGuide.com